Winter infographics campaign
In the immortal words of Jon Snow – winter is coming.
The nights are pulling in; every day features at least one rain shower – and we can all start dreaming about what Santa might bring when the big day arrives.
But for young riders, the change in season comes with a set a new challenges on the road.
Check out our winter riding infographics and tips (click on the images to bring up the full size versions available to download):
---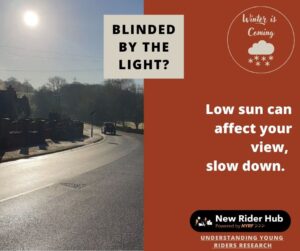 Blinded by the lights ✨
These may be lyrics from your favourite song by The Weeknd, but the message is important!
Low sun can affect your view, so slow down!
---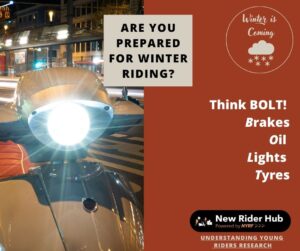 Think BOLT ⚡
No, not Usain… But this handy acronym of checks to ensure your bike is prepared for winter riding!
Brakes
Oil
Lights
Tyres
Here are some more maintenance tips:
https://newriderhub.net/your-bike/maintaining-your-bike/
---
Ready for the winter weather? ☔
Let's be honest, it's going to rain every day between now and next summer. After all, this is Britain.
Give yourself more time and space on wintery roads!
---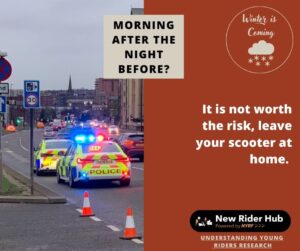 Morning after the night before… 
Had a few with your mates last night? ? While you may feel fine, it takes a lot longer than most people think for alcohol to pass through the body!
It is not worth the risk, leave your scooter at home!
---
---